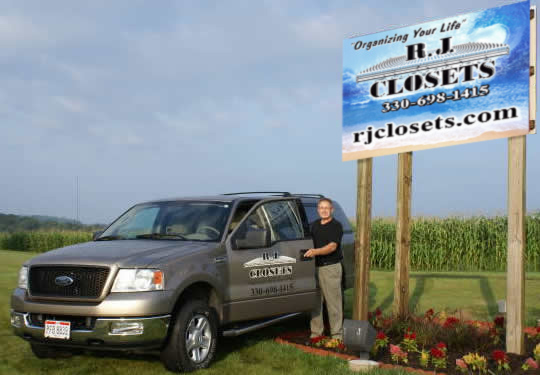 About RJ Closets
R. J. Closets was born out of the need for better storage in my own closets. Having built the home in 1985, I had just put in some temporary straight rods to hang our clothes on, and planned to upgrade them at a later time. That later time came in 1990 after seeing Organized Living brand products (previously Shulte) in several new homes I had worked in. I was impressed by their quality and style of shelving. After having worked for an appliance company for 15 years that went out of business, I was looking for a new opportunity, as it had been a dream of mine to have my own business. After installing these closets in my own home, I decided that I'd like to give others the chance to have this quality storage solution for their homes.
I have been in the closet business since 1991 and have built the business on honesty, integrity, quality and dependable service. I have researched all the wire shelving that is available on the market and I can honestly say that Organized Living shelving has the heaviest gauge steel in the industry. They also have a superior design, epoxy coating and patented anchor systems which all adds up to Organized Living being the leader in the closet industry. Along with the Organized Living products, R. J. Closets provides you with expert design and installation that will give you home organization solutions with years of trouble free service and lasting beauty.
We also provide a warranty on all installations for a period of 5 years under normal household use. Many people have been turned off by wire shelving because of a poor product and installation. Since I've been in business, I have had very few complaints or call-backs. I have confidence in the products and services we provide.
Rob Yoder, Owner